Easter Egg Hunts for Kids in Westchester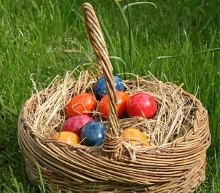 Once a year, in early spring, there is a special kind of magic in the air that allows fluffy little bunnies to lay eggs filled with treats and toys--or so the stories go. Get your child out there to take advantage of this annual phenomenon by attending one of the many Easter egg hunts taking place throughout Westchester this month--and almost all of them are FREE. If you're looking for other activities, take a look at our April Go List, filled with our top picks for events happening all month long. While you're out enjoying the spring air, consider a short hike or a stop at one of the county's many nature centers. Maybe someone there can better explain the rabbit-egg-lying process... 
Flashlight Egg Hunt - Pleasantville 
Thursday, April 10
Egg hunt at Nanahagen Park. 4th, 5th and 6th graders only. Bring a flashlight and a basket. FREE
Annual Egg Hunt - Pleasantville
Saturday, April 12; 10am
Egg hunt for younger kids in Nanahagen Park. Ages 2-8. FREE
Egg-Stravaganza - New Rochelle
Saturday, April 12; 10am
Children in grades preschool-2 are invited to the Hugh Doyle Center for a morning of story telling, face painting and egg hunting. 
Story telling, face painting, egg hunting, registration required through the New Rochelle Parks and Recreation Department. FREE
Spring Eggstravaganza - Hastings on Hudson 
Saturday, April 12; 11am
Hastings residents are encouraged to hop on down to Reynolds Field for this bring-your-own-basket spring Eggstravaganza. Children ages 2 to 8 will hunt for eggs while children under age 2 will be given a special goodie bag. FREE
Tarrytown Easter Egg Hunt - Tarrytown 
Saturday, April 12; 10am
Eager Egg Hunters ages 1-8 will meet in Patriot's Park to meet the Easter Bunny and collect eggs. FREE
Egg-Stravaganza - Harrison 
Saturday April 12; 11am-1pm
Visit with Peter Cottontail, hop on some kiddie rides and collect eggs at Passidomo Park in West Harrison. All children should bring a basket or bag to collect eggs. Kids will be divided up into age groups. FREE
Easter Egg Hunt - Rye
Saturday, April 12; 10:30am
Kids ages 2-11 can hunt for eggs at Rye Recreation Park. FREE
Town of Somers Annual Egg Hunt - Somers
Saturday, April 12; 10am
Egg hunt at Reis Park. FREE
Annual Easter Egg Hunt - Yorktown
Saturday, April 12; 10:30am
Children under age 12 are invited to Downing Park to hunt for eggs and visit with the Easter bunny. Find one of the large plastic eggs hidden in the park and win an entire Easter basket from the Lion's Club. FREE
Lion's Club Easter Egg Hunt - Montrose
Sunday, April 13; 2pm
Children ages 2 and up will gather on the lawn of Hendrick Hudson High School for this yearly event. Kids should bring their own baskets and will be divided into age groups for fair gathering. FREE
Spring Celebration and Egg Hunt - Scarsdale
Sunday, April 13; 11am-3pm 
Visit the Greenburgh Nature Center for a Spring Celebration and Egg Hunt. There will be food and fun, crafts and animals and, of course, a nature-inspired egg hunt. All activities will run continuously throughout the day. Online pre-registration required by Saturday, April 12.
Stew Leonard's Easter Egg Hun Egg-Travaganza - Yonkers
Tuesday, April 15; 4-5:30pm
Easter Egg hunt for children throughout the store. Kids will be given a map of Stew Leonard's and a bag to collect eggs in. Costumed characters throughout the store will handing out eggs. All participants will receive a special "Golden Egg" and one lucky child will win a family pack of passes to Rye Playland. FREE
Spring Egg Hunt - Bedford
Tuesday, April 15; 10:45am
Children ages 2 to 10 and their families are invited to Bedford's Annual Spring Egg Hunt at the John Jay Homestead. All children need to bring their own baskets or bags to this event; kids will be divided into age groups. FREE
Egg Hunt - Katonah 
Thursday, April 17; 11am 
Children ages 8 and under who are living in Lewisboro or attending district schools are invited bring a basket to Onatru Farm Park in South Salem for this spring event. Special guests will include the Lewisboro Bunny and Annie & The Natural Wonder Band. FREE
City of Yonkers Easter Egg Hunt - Yonkers
Saturday, April 19; 10-11am
Children ages 2 through 10 will be divided into 3 age groups; each age group will meet at a different part of the field and start times will be staggered. FREE
Tuckahoe Village Easter Egg Hunts - Tuckahoe
Saturday, April 19
The village of Tuckahoe will be holding two separate Easter Egg hunts on Saturday, April 19th. Children ages 1 to 4 will be hunting for eggs at Circuit Park at 11 AM, while children ages 5 to 9 should report to Villiage Hall at Noon. FREE
Annual Dobbs Ferry Easter Egg Hunt - Dobbs Ferry
Sunday, April 19; 10am
Kids can frolic and search for eggs at the annual Easter Egg Hunt at Gould Park. FREE
Sleepy Hollow Egg Hunt - Sleepy Hollow
Saturday, April 19th; 11am 
Bring a camera and a basket to Douglas Park, collect eggs and have your child's picture taken with the Bunny. FREE
Egghunt With Wolves at the Wolf Conservation Center - North Salem
Sunday, April 20; 2pm
Check out this twist on the traditional egg hunt--children and families are invited to visit the Wolf Conservation Center and HIDE eggs for the wolves to find.